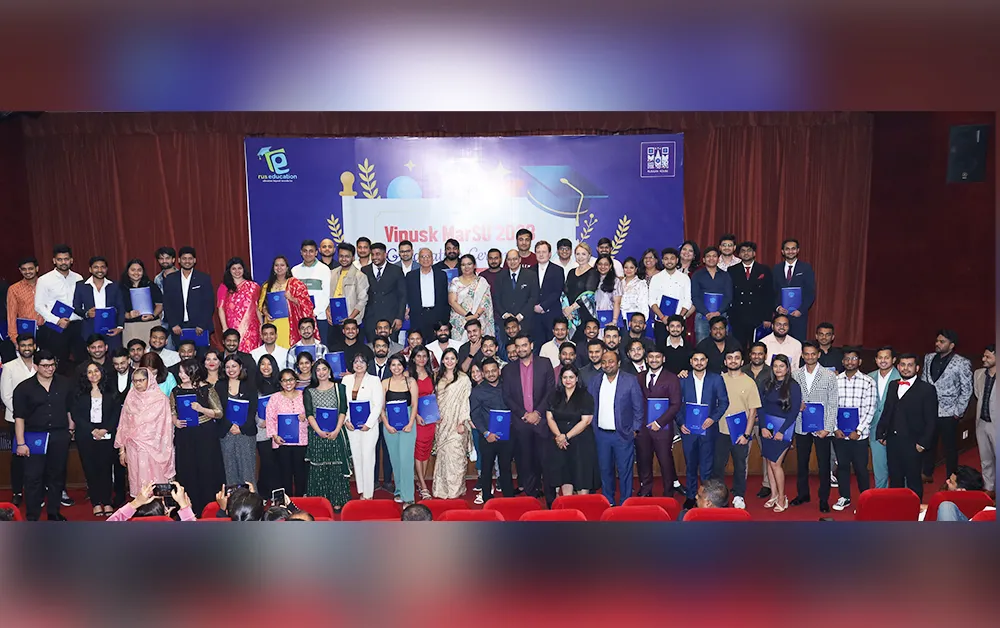 Mari State University Achieves Academic Excellence with 2023 Graduation Ceremony
Mari State University on 18th November 2023 organized the graduating ceremony for the graduating class of 2023 at the Russian House, New Delhi, celebrating the remarkable achievements of its graduates. This momentous occasion was filled with joy, pride, and the promise of a bright future for these young aspiring doctors.
The event commenced with a speech by Retd. Air Marshall Dr. Pawan Kapoor, Technical Advisor, Rus Education delivered an eloquent address to the students and extended a warm welcome to all the esteemed dignitaries. He highlighted and appreciated the years of hard work and dedication of all the young aspiring doctors.
Other dignitaries who marked their esteemed presence include Mr. Alfred Shtoda, Representative of the Russian Federation in India, Mr. Harish Chopra, Secretary General of India-Russia Foundation; Ms. Elena Barman, Representative of the Russian House, New Delhi, Dr. Vanita Mittal, General Manager Academics, Max Healthcare; and Dr. Rohit Chaudhary, Coordinator of Indian Students at Mari State University. Their presence not only adds grandeur to the occasion but also imbues the student with great enthusiasm and inspiration. They not only marked their presence but also took the stage to share their valuable insights.
The ceremony was a testament to academic excellence bringing students, faculty, and dignitaries from all over the world. A special acknowledgment was given to all distinguished graduates who returned from Ukraine to continue their medical journey with Mari State University highlighting the international accreditation and recognition of the Mari State University.
This graduating ceremony marked the end of an academic journey and the start of a new chapter in the lives of the graduates. The event, filled with both joy and poignant moments, concluded with a sumptuous dinner.