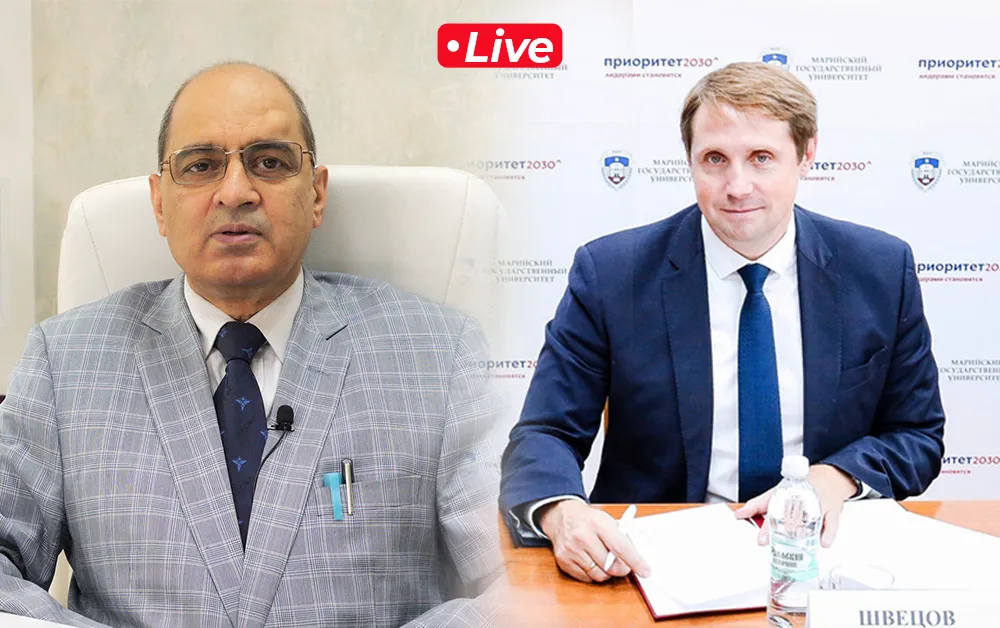 Mari State University's Rector Clarified about MBBS in Russia During Live Session
Rus Education organized a Live session on July 6, 2023, featuring the esteemed Rector of Mari State University, Prof. Shvetsov Mikhail N. This interactive session covered various topics related to the university, including the academic programs offered, accommodation facilities, the safety of international students, and more.
The session commenced with a warm welcome from Air Marshal Dr. Pawan Kapoor (Retd.), the Vice Chairman of Rus Education. Air Marshal Dr. Pawan Kapoor (Retd.) extended his greetings to Prof. Shvetsov Mikhail N., the Rector of Mari State University; Ms. Natalia N. Kanashina, the Head of the International Department of Mari State University; as well as the students and parents who were watching the session from the comfort of their homes. In his welcome address, Air Marshal Dr. Pawan Kapoor (Retd.) emphasised the importance of obtaining information directly from the right source.
During the session, Prof. Shvetsov Mikhail N. provided detailed insights into the university's academic programs, highlighting the diverse range of disciplines available for students to pursue. He also emphasised the university's commitment to providing comfortable and secure accommodation options for international students, ensuring a conducive learning environment. Additionally, Prof. Shvetsov addressed any concerns regarding the safety measures in place to protect international students throughout their time at Mari State University.
The Rector also mentioned the possibility for Indian students to transfer their studies to Mari State University. However, to be admitted to the university for MBBS in Russia, students must provide their transcripts. These transcripts should include their academic records and any relevant medical certifications suitable for the MBBS program.
Some of the key points clarified by the Rector were as follows:
Mari State University promotes a multi-ethnic, intercultural environment based on principles of equity and non-discrimination.
The MBBS course at Mari State University spans six years, including a one-year internship, and is conducted in English.
The MBBS course follows a semester-based system, consisting of six-month semesters. At the end of each semester, an evaluation exam is held.
Upon completion of the six-year course, a comprehensive examination is conducted, which qualifies the MBBS students for their diplomas.
Graduates have the opportunity to take an accreditation examination to obtain a license to practice medicine in Russia. Initially, medical practice begins at the Polyclinic, and graduates are subsequently assigned as independent and supervised physicians in various hospitals across Russia.
Mari State University provides ample clinical exposure for its medical students.
The university offers FMGE/NExT classes during the MBBS course.
If you want to pursue MBBS at Mari State University, contact Rus Education, our exclusive admission partner in India at the Student Helpline Number 1800-833-3338 or by sending an email to del@ruseducation.in or query@ruseducation.in.