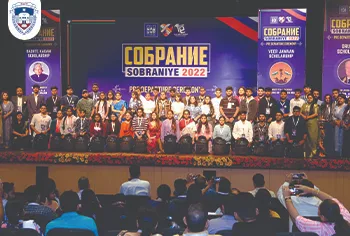 New Batch of Indian Students of MarSU Joins Sobraniye 2022
The recently enrolled new batch of Indian students of Mari State University joined Sobraniye 2022 Second Edition on Tuesday, 27th September, 2022, at Kamani Auditorium, New Delhi. The pre-departure ceremony was organized by Rus Education, university's exclusive admission partner in India, for the MBBS in Russia students who will join the university for their medical education.
The second edition of Sobraniye 2022 witnessed the warm presence of the esteemed personalities from different arenas of professions - Lt. Daljit Singh, VSM, Director General Medical Services (Indian Army) & Sr. Col. Comdt.; Mr. Oleg Osipov, Director, Russian House in New Delhi; Dr. Vinitaa Jha, Executive Vice President, Medical Education & Research, Clinical Directorate, Max Healthcare; Shri Nirmal Kumar Bhagat, Director, Ministry of Health and Family Welfare; Dr. Vanita Mittal, General Manager, Academics, Max Healthcare Institute Ltd.; and Mr. Nikita Zhvachkin, Head of the Corporate and Financial Institutions Department, Sberbank India.
The new batch of MBBS students of Mari State University that joined the ceremony included Ukraine returned medical students who will continue their medical education at the university. Last month, after the announcement of the accommodation of Indian medical students from Ukraine seeking university transfer by the Rector, many students registered for admissions at the university to resume their studies.
The event ended on a positive note for the students with the words of encouragement from the reputed personalities.