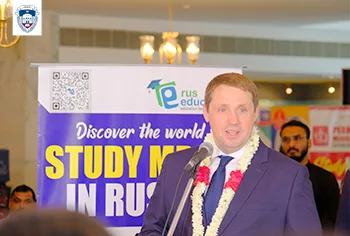 Mari State University Participated At The Russian Education Fair, 2nd Edition
Mari State University recently participated in the 23rd Russian Education Fair 2022 conducted in various metropolitan cities of India between 10th to 18th September 2022. The fair in its second edition not only reached Kolkata, Patna and Mumbai but for the very first time reached Patna, Hyderabad and Bangalore.
The fair provided the students, seeking to pursue MBBS in Russia, with an opportunity to get complete and authentic guidance directly from the top government universities of Russia. Representing Mari State University, Mr Vedernikov Aleksandr joined the fair. He was briefly joined by Prof. Shevetsov Mikhail N. Rector, MarSU himself, who joined the fair to help and guide Ukraine returned medical students seeking transfer to Russia.
The team of MarSU interacted with hundreds of the students aspiring to explore their opportunities of studying MBBS in Russia and assisted several of them in getting the benefits of the on-spot admissions.
An abundant number of students and parents showed interest in the offered medical programs at MarSU. The represntatives from MarSU along with the support from the team of Rus Education helped all the students and parents with all their concerns and doubts, regarding admission procedure, course, curriculum, facilities, etc.
We are happy to help all aspiring students by identifying, guiding and assisting them with their medical studies. Overall the event proved to be a great success for not only the aspiring students but also for the university.