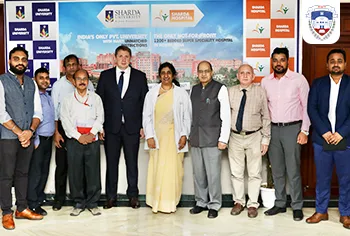 M
ar

SU Discusses Areas Of Mutual Cooperation With Sharda University

During his visit to India, the Rector of Mari State University, Prof. Shvestov Mikhail N., on 15th September 2022, paid a visit to Sharda University, India to discuss the feasibility of cooperation between the two universities for collaborating in the field of education including medical education, engineering and technology, humanities and information technologies.

The rector was accompanied by Mr Oleg Osipov, Director, Director, Russian House in New Delhi, Air Marshal Dr Pawan Kappor (Retd.), Vice-Chairman and Dr Dinesh Singla, Director, Rus Education. The envoy was greeted warmly by the team at Sharda University including Prof. P.K. Gupta, Chancellor; Dr Manisha Jindal, Dean, School of Medicine and Research Institute; Prof Michail Barmpas, HOD, Study Abroad Program; Prof. Dr Adesh K Gadpayle, Director & Medical Superintendent, Sharda Hospital.

The meeting was held in a conducive and constructive environment. Through the discussions, the universities agreed to examine the feasibility of collaborating on faculty development programs, research, and faculty and student exchange programs. The stakeholders of both universities also agreed to take suitable steps to make these collaborative efforts meaningful and effective.

The concern of various Indian students studying at MarSU, regarding gaining experience in India was also discussed. The issue of summer internship/observership for Indian students during summer vacations was positively considered by Sharda University.

Following the discussion, the envoy also took a guided tour of the university and observed the educational, medical and surgical practices used by the respective professionals at the university.

The fulfilling discussion concluded on a happy note for both universities as new initiatives were announced to ensure more secure and meaningful medical studies for the students of both universities.