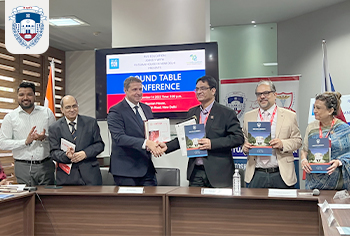 Mari State University Signs Cooperation Agreement With Santosh Medical College
Mari State University joined the Round Table Conference organized by Rus Education in collaboration with the Russian House, New Delhi, on 14th September 2022 to meet and interact with the delegates of the Indian medical universities on student exchange programs and establish relationships that will be fruitful for all.
During the conference, Prof. Shevetsov Mikhail N., Rector of Mari State University, addressed the attendees and highlighted the striking features of the university, such as quality medical education, international student diaspora, comfortable living conditions, and more. He further spoke about the accommodation of over 3,000 distressed Ukraine returned Indian students in the university to help them resume their disrupted MBBS studies and offer them medical education at discounted prices.
Moreover, he signed a cooperation agreement with Santosh Medical College at the event to offer better opportunities to the medical students of both universities in their respective countries. Through this agreement, both medical institutions seek to formulate efficient student exchange programs for their students to ensure the overall holistic development of their students and help them become well-established doctors in their respective countries.
Prof. Shevetsov Mikhail N., Rector of Mari State University, and Dr. Shalabh Gupta, Dean Academics of Santosh Medical College, signed the cooperation agreement and made it official. The other respected attendees present during the signing ceremony include Dr. Rajiv Ahluwalia, Dean for Student Welfare of Santosh Medical College and Air Marshal (Dr) Pawan Kapoor, Vice-Chairman and Dr. Dinesh Singla, Director of Rus Education.
After the signing ceremony, the two dignitaries exchanged copies of the cooperation agreement and gave a vote of thanks to each other for developing their new cooperation.
The event concluded with a new agreement coming into existence that will open up new opportunities for future doctors in the world of medicine and healthcare.