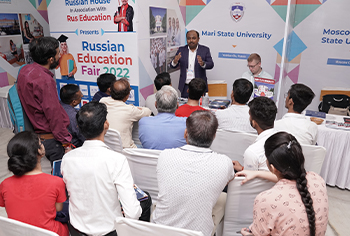 Mari State University Joins Russian Education Fair 2022 in 2nd Edition
Having been a huge success in its first edition, the 23rd Russian Education Fair 2022 (REF 2022) returns for its second edition. Mari State University (MarSU) would also be once again participating at REF 2022 in its 2nd Edition.
Like its first edition, REF 2nd Edition is also being organised by Rus Education in collaboration with Russian House in New Delhi, Kolkata, and Mumbai. The Russian Education Fair 2022, in its 2nd Edition, would also reach Patna, Hyderabad, and Bangalore for the first time, along with Kolkata, Mumbai, and Delhi.
With this, the participating universities at REF can reach more Indian students aspiring to study in the best universities of Russia and in case of Mari State University, assist them in achieving their dream of becoming a doctor.
Mari State University is a very popular choice among students seeking affordable, quality medical education in Russia. The stand of Mari State University witnessed a massive hoard of the aspiring students and parents in the 1st edition of REF. The representative of MarSU also interacted with several students and parents and helped them with their doubts and concerns.
With the 2nd Edition of REF, Indian students will once again have the opportunity to interact directly with university representatives and get complete and authentic information about their MBBS in Russia and explore attractive discounts, scholarships and other unlimited benefits with their on-spot admission.
Here is the schedule for Russian Education Fair 2022, 2nd Edition:
Russian Education Fair 2022, 2nd Edition

Schedule

1.

10th Sept. 2022

Kolkata, West Bengal

Russian House in Kolkata

2.

11th Sept. 2022

Patna, Bihar

Hotel Maurya, Bodhi Hall

3.

13th Sept. 2022

Delhi

Russian House in New Delhi

4.

15th Sept. 2022

Hyderabad, Telangana

The Golkonda Hotel, Banjara Hills

5.

17th Sept. 2022

Bangalore, Karnataka

Taj Yeshwantpur

6.

18th Sept. 2022

Mumbai, Maharashtra

Russian House in Mumbai
If you would like to participate in the Russian Education Fair 2022, 2nd Edition, simply register online at www.russianeducationfair.com or call the student helpline at 1800-833-3338.