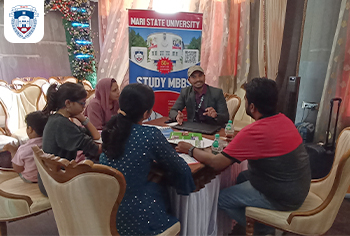 Mari State University Participates In MBBS Admission Expo 2022 At Anantapur
Mari State University actively participated in the MBBS Admission Expo 2022 on July 31, 2022, in Anantapur. The university was pleased to have been a part of such a wonderful event that brought together top-ranking universities and Indian medical students. The university's participation in the event was intended to meet and interact with Indian students and parents, as well as to answer their questions and concerns about studying medicine in Russia at Mari State University.
Mari State University thanks all of the Indian students and parents who attended the events and expressed interest in MBBS admission in Russia at the university. We are delighted to be able to assist Indian medical students in their medical journey ahead.
Meet us in the next edition of MBBS Admission Expo. To know the upcoming destination, register here for free - https://mbbsadmissionexpo.in