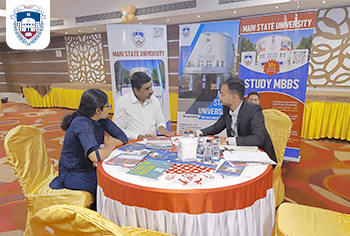 Mari State University Joins MBBS Admission Expo 2022 At Bilaspur, Aurangabad, And Chitradurga
On 31st of July 2022, Mari State University actively participated in the MBBS Admission Expo 2022 across three cities in India - Bilaspur, Aurangabad, and Chitradurga. The university felt pleased to have participated in such great events that brought the top ranking universities and Indian medical aspirants under one roof. The aim of the university to participate in the events was to meet and interact with the Indian students and parents and provide solutions to their doubts and queries with respect to MBBS in Russia at Mari State University.
Mari State University is grateful to all the Indian students and parents who participated in the events and expressed interest in MBBS admission in Russia at the university. We feel great about guiding Indian medical aspirants and contributing in their journey to be a doctor.
The university looks forward to meeting you in the next edition of MBBS Admission Expo. Register here for free - https://mbbsadmissionexpo.in