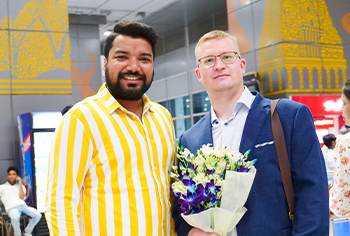 Top Delegation From M
ar

SU Arrives To Delhi

Representing Mari State University at the 23rd Russian Education Fair, The Deputy Dean, Medical Faculty of the university, Vedernikov Aleksandr arrived in India for the 5 day tour between 24th July 2022 to 26th July 2022.

The fair is being organised by the collaboration of Russian House (Trivandrum, Kolkata, Mumbai and Delhi) and Rus Education. It is to be noted that this would be the first time the fair is being held after the 2 years of setback due to the imposed covid restrictions.

The schedule of the delegation, joining the Russian Education Fair 2022, would be travelling to Trivandrum, following their arrival at IGI Airport, Delhi for the REF-2022 on 26th July 2022, and then for REF 2022 in Mumbai. The envoy would also be attending the Press Conference a day before the REF 2022 in Kolkata and Delhi, scheduled for 30th and 31st July 2022 respectively.

Know more about the Russian Education Fair 2022

For more information about the Russian Education Fair 2022, register for free at www.russianeducationfair.com.