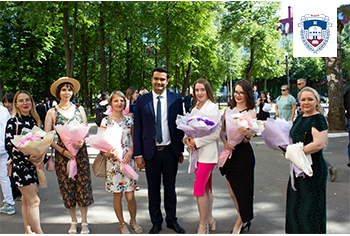 Mari State University Russia Organized Annual Convocation Ceremony 2022
"The future belongs to those who believe in the beauty of their dreams." - Eleanor Roosevelt
The 6th of July, 2022, was a big day for the MBBS graduates of batch 2016-2022 at MarSU as they took a massive leap forward in their medical careers. Mari State University conducted a magnificent annual convention ceremony at the university campus where the graduated students were awarded medical degrees for the academic session of 2016-22.
The university felt delighted to confer degrees to 142 medical graduates during the magnificent event. Dr Ankit Chandrakar, current graduate of MarSU was granted a "Degree with Honors" for graduating with flying colors.
MarSU would like to thank Dr. Dinesh Singla, Director & Representative of Rus Education, who ensured to mark his warm presence at the university to bless the graduating students on this memorable day. He congratulated the medical graduates for earning the title of "Doctors" after six years of hard work and dedication and wished them good luck for their future ventures.
Furthermore, the grand event also witnessed the delightful presence of the reputed personalities from the Mari State University - Prof. Mikhail N. Shvetsov (Rector); Prof. Irina Petrova, (Vice-Chancellor); Ms. Natalia N. Kanashina (Head of the International Department) and Dr. Rohit Chaudhary (Representative of Indian students at MarSU).
The major highlights of the grand convocation ceremony at MarSU included high-spirited cultural performances by the students and motivational speeches by the honorable guests and mentors to boost the morale of the graduating students.
On this memorable day, when young doctors finally made their dreams a reality, they were blessed with uncountable blessings from their parents, friends, batchmates, and teachers. We believe that it's their consistent hard work and dedication that took them so far. We also hope that this is just the beginning of their road to success, and they will achieve more milestones in the times ahead.