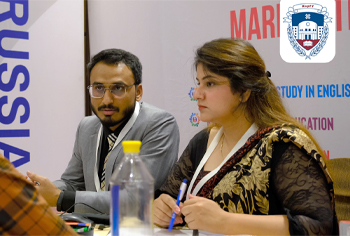 Mari State University Joins MBBS Admission Expo 2022, Kota
The biggest MBBS Admission Expo is being conducted in various cities of the Indian subcontinent. The Expo features the participation of the 20+ top medical universities of the world. Among these participants, Mari State University also participated in the Expo to guide the students in regards to their MBBS admission Expo 2022, Kota.
The objective of the university's participation in the event is to interact directly with the students and parents and resolve all of their doubts, concerns and queries they may have in regards to their MBBS admission in Russia with Mari State University.
Mari State University thanks all the students and parents who joined us at the MBBS Admission Expo 2022 in Kota on 15th May 2022. It was amazing to be a part of this spectacular experience, where we were able to help the students on their journey to become a doctor.
The university is looking forward to having more such events with the students and parents at the next edition of MBBS Admission Expo 2022 in Kanpur and Latur. To join us, register for free at https://mbbsadmissionexpo.in