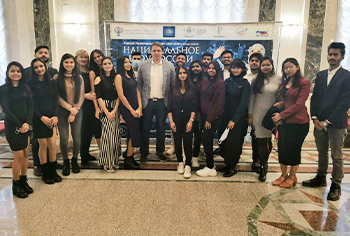 Mari State University Celebrates International Women's Day
Mari state university found a unique way of celebrating International Women's day with the Indian students. The Indian girl students of MarSU got a once-in-a-lifetime opportunity to visit the theatre for the Russian National Dance Show Kostroma with the Rector of MarSU Prof. Mikhail Shvetsov. The trip was organized and sponsored solely by the university.
"The Russian National Dance Show "Kostroma" is known for cleverly and with great prowess uniting lyrical sketches with elements of folklore and ancient Russian epic. It uncovers the Russian culture through the nature of its people, social status and national colouring. You can witness the temporal, urban, village, military culture of Russia. The accurately created images of mother, wife, daughter, son, husband and warrior reflect the heritage of the many generations and the unique spirit of the Russian nation.
50 dancers on stage, masterly technique, outstanding acting, 15 reincarnations, 10 tons of freight, 600 unique costumes, 300 items of props, 8 sets changes - this are the fabulous reality of "The Russian National Dance Show "Kostroma" that captivates the audience of all ages and nationalities.
Indian students had a great evening and wished the teachers of MarSU a very happy International Women's Day. At present, the MarSU is home to almost 1200 Indian students who travelled to study MBBS at Mari State University making it a top university in Russia and a popular choice among the Indian students.